Speedometer
About this app
This GPS speedometer is a clean and nice speed measurement application that works in portrait mode. It can be used to find out the current speed of your car or bike or to measure the travel speed while you are walking or jogging. But what are the other readings shown by this app?

1. The distance. The GPS coordinates are used to compute the straight line distance between the current location and the starting point.
2. The accuracy of the latitude and longitude values, which gives in fact the precision of the speed and distance measurements.
3. A preset speed limit. Once the speed exceeds this limit, a loud sound alert can be emitted, if enabled.
4. The altitude (height from sea level).
5. Heading info. There is a compass icon that rotates and a label that shows the compass directions: N, S, E, W, NW, NE, SW, SE
6. The maximum speed
7. A web map that is freely provided by openlayers.org. There are three additional, self-explanatory buttons: Zoom in, Zoom out and Refresh.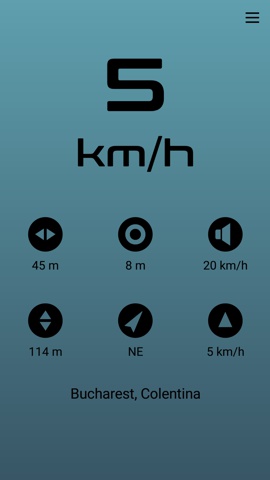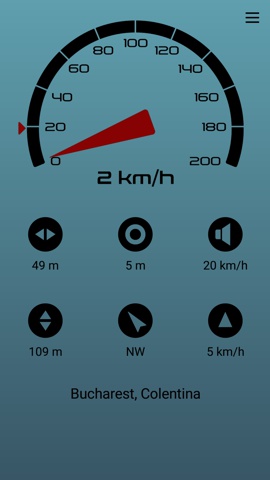 How it works
After the location permission is granted, this speedometer app starts to compute the speed and the other data. Obviously, the accuracy of all readings is better outdoors, in regions with no tall buildings or trees. Also, notice that the speedometer can show temporary false readings when you start using it.
- The higher the speed, the more accurate this GPS speedometer is.
- The analog dials have a limited range, they can show speeds up to 200 units.
- Simply tap the distance icon to initialize the computed distance
- Tap the maximum speed icon to reset its value.
- Tap the speaker icon to enable or disable the sound alert
- Tap the down arrow to view your location on the map (when the GPS data are present and the Internet access is enabled) and tap again to hide it.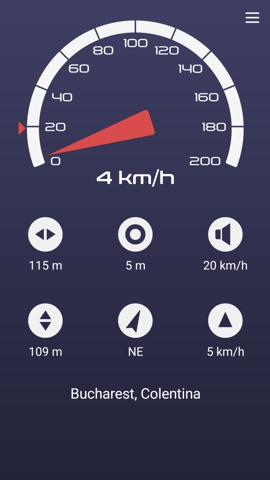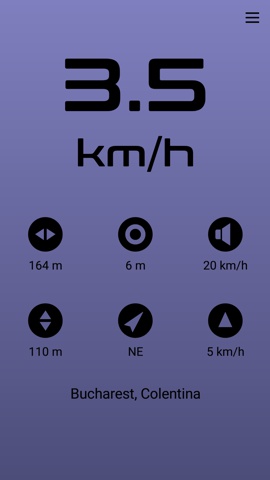 Global features
-- normal and high contrast themes
-- large digits used for the speed values
-- simple user interface
-- several background colors
-- several units of measurement (km/h, mph,m/s,ft/s)
-- analog or digital display
-- free application, no intrusive ads
-- only one permission required (location)
-- see your current location on a map
-- this app keeps the phone's screen ON