Solitaire +
About this app
Solitaire + is in fact the classical Klondike solitaire game updated with a new and modern look. Four suit stacks have to be built in ascending order (one for each color), using all the cards in the deck. You win the game when all stacks are completed, and the score you get is based on the number of moves and on the playing time. This game release includes a few useful commands, such as Hint, Undo and AutoPlay; also, it features a new solitaire variant named Thoughtful, in which all the cards are dealt face up.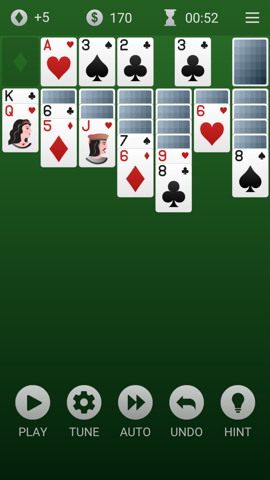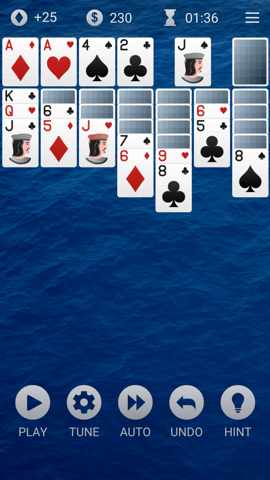 How it works
Once the application starts, the cards are automatically dealt and a new game begins (the game type in selected in Settings). If the last game was interrupted for some reason, it is always resumed on start - including the scores and the game duration. A tap anywhere on the screen will display or hide the group of five buttons from the bottom: Play, Tune, Auto (play), Undo and Hint.
PLAY allows you to start a new game (Random, Winnable or Replay the last game). If the game type is changed during a game, the new selection is active starting with the next game.
TUNE displays the Settings page, where a few game options can be changed according to your preferences. There is a small table with the game Statistics for Klondike/ Thoughtful and 1/3 card drawn at a time.
AUTO tries to automatically move the cards to the upper stacks.
UNDO is a self explanatory command; the last card moved is instantly placed on its previous spot.
HINT makes a legal move (or turn over a face down card).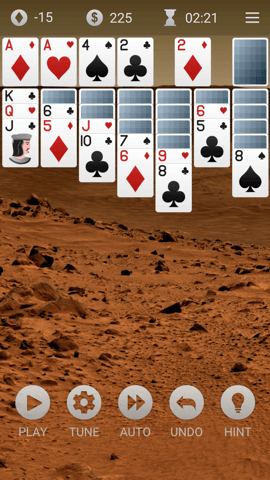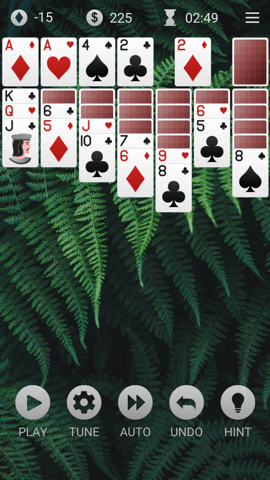 How to play
- The seven stacks from the bottom are filled with cards when the game starts; you have to move them toward the upper stacks, starting with the Aces.
- A tap on the deck will draw one or three cards, according with the game settings; there is no re-deals limit.
- To move a card or a stack of cards from one row stack to another, the card or stack over another one (that has an alternate color, arranged in descending order).
- Only a King can be moved to an empty slot, regardless of its color.
- A Long Tap on a card (face up) will automatically move it, if it's suitable, to their upper stack or to another, but appropriate spot.
- A normal tap on a face down card will turn it over.
- The game is over when all the four Kings are displayed on the upper stacks.
Key

features

-- Klondike and Thoughtful solitaire games, one or three cards drawn
-- free application, non intrusive ads, no limitations
-- no permission required

-- replay option, statistics
-- several background variants to choose from

-- landscape and portrait orientation