Poker Lines
New kind of solitaire game, a variation of the classic poker and patience
Poker Lines is a new solitaire game, a variation of the classic poker and patience, played on four rows and five columns, with or without a free card. You must arrange the cards on the columns to obtain the maximum score from the horizontal poker lines. The current card on a column can be exchanged with other one from the same column (or the free card) by dragging over it and releasing the mouse button. By right clicking on a card you can simply exchange it with the free one, if enabled. The highest score and the best time you get are stored and shown in Statistics page.
Release 2.1 has an online checking for new versions and a small sound problem was fixed.
Version 2.2 has some graphic improvements and new card back designs.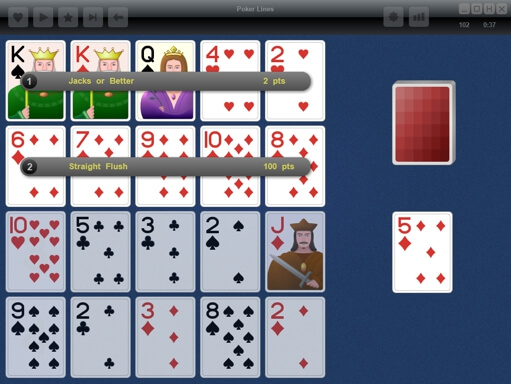 Description
The upper buttons of the main window are self explanatory, and their description is even displayed for a short time. To start a new game, press the Play button. First column from the left will be filled with cards, the free card appears too if enabled, and you can exchange them already. Make a click on the deck to draw four more cards for the next column, then you can start exchanging cards and think to the poker hands you may finally have on the horizontal lines. A right button click on the current column's card exchanges it with the free one, if enabled. The game is over when the four lines are completed and you make an additional click on the deck; each poker line is identified and scored. A small button appears when the mouse is over the bottom-right corner; it allows you to resize the game window, but not when the full screen mode is active.
Settings page hosts the Free Card option; if this is changed during a game, the current game is lost and a new one will begin. Among other usual options, here you can see and select the game deck (back of the cards) from eight models.
Statistics page shows the current / best score and time values, plus the games number, for both Free Card or simple games you have played. These values can be cleared anytime.
This game is freeware. You can play it for an indefinitely long period, having all the options activated. The current version may be freely distributed, as long as the distribution package is not modified in any way. No person or company may distribute separate parts of the package without written permission of the copyright owner.