| | |
| --- | --- |
| Monitor Expert | |
A utility for monitor testing
This software utility helps you choose a high quality display and adjust it for an optimum performance, through the use of many test images that allow you to easily tune the monitor settings. It can be controlled using both computer keyboard and mouse buttons, but also includes touch tests that were specially designed for Tablet PCs. Monitor Expert improves the visual experience and reduces eyes fatigue by allowing the computer user to obtain a proper tuning of the monitor controls. It is suitable for LCD, LED (and even older CRT) desktop monitors and laptop or tablet displays, with or without touch-screen capabilities. The option to cycle through all test pages, at 3 seconds interval, can be very useful in showrooms, shops or service departments for looped presentations.
What's new in this version?
Optimized code for Windows 8, either desktop, laptop or tablet use;

A simple and ergonomic design, with larger fonts and big buttons;

Touch screen tests through simple or multi-touch gestures;

A sound test is available for monitors/systems with stereo speakers;
Here are a few pictures of the program's test patterns and information pages; you can click on each picture to enlarge it. All the program pages are carefully designed to let you find out the optimum level of the monitor controls, in order to have bright and vivid colors on your screen, clear images. This way you can enjoy a more comfortable working experience for prolonged hours in front of your monitor, either for regular use or graphic applications.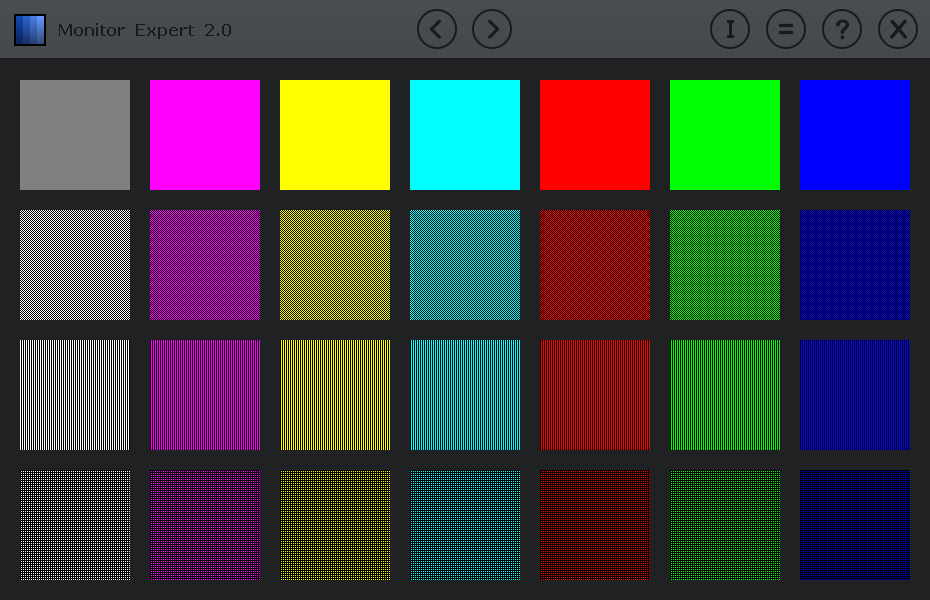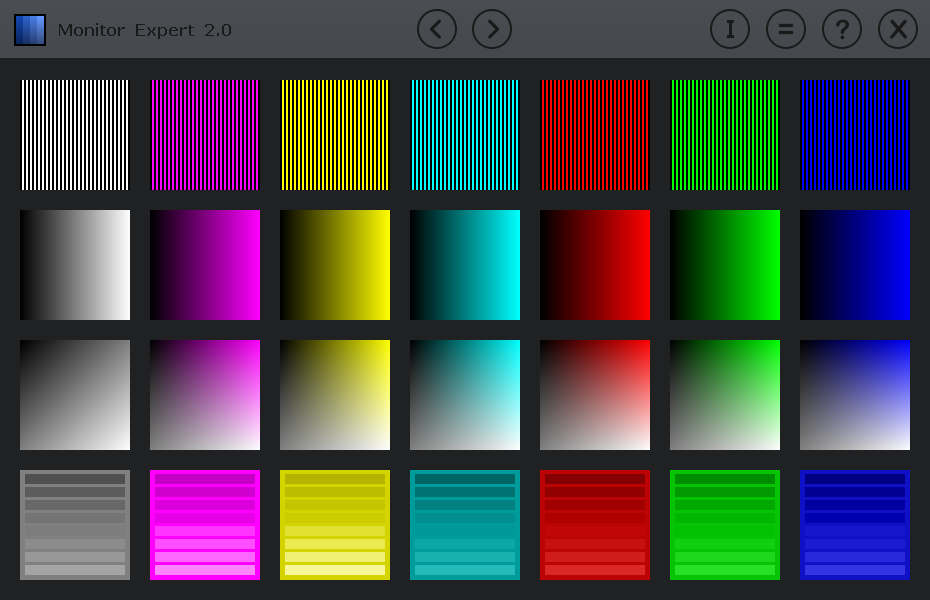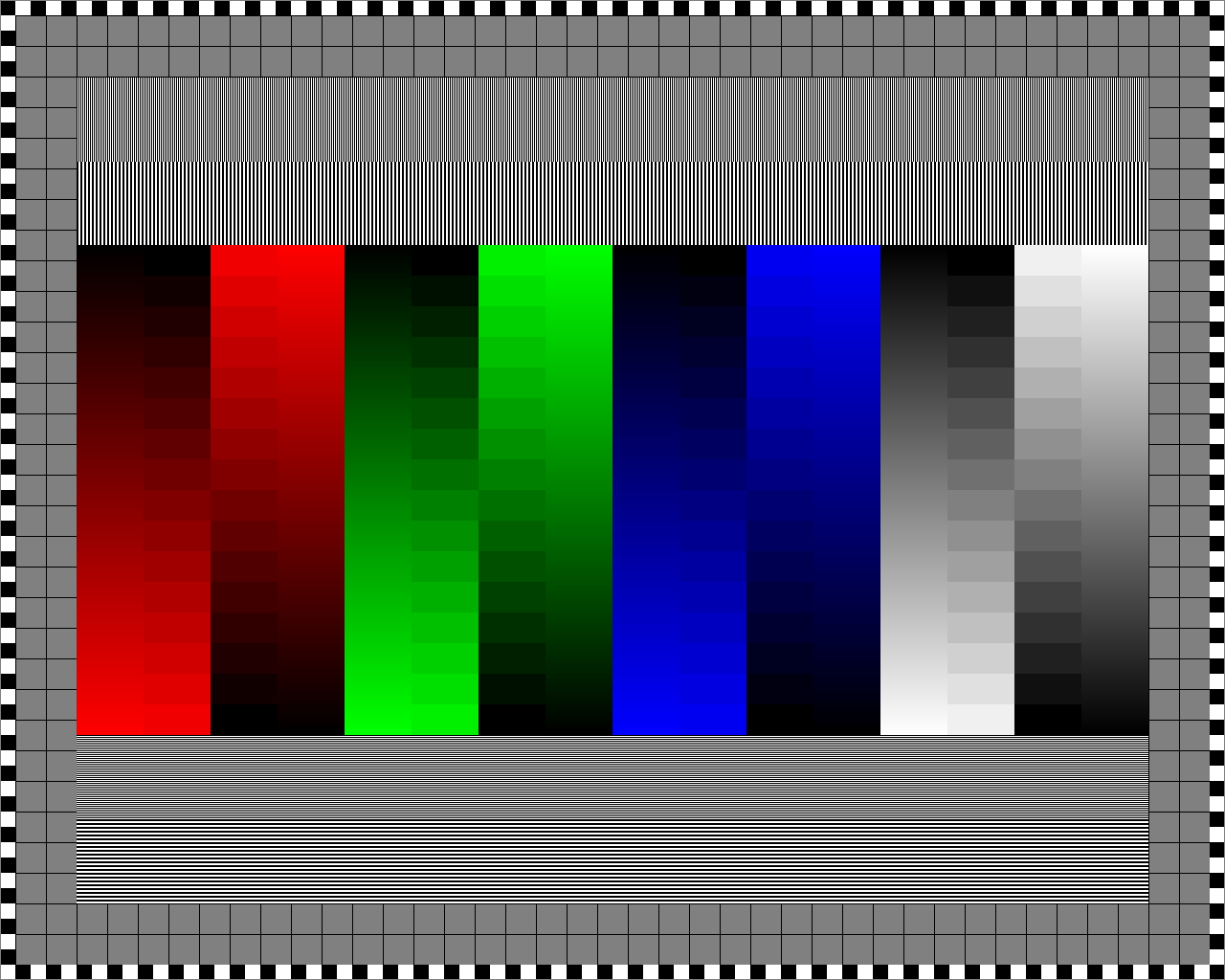 How it works?
This utility has six pages containing the thumbnail pictures of the included test patterns. You can click on any of these to get the full screen picture. When moving the mouse cursor to the left/right/up/down quarters of the screen, big arrows appear and therefore, a mouse click in these screen zones allows the navigation through all the program pictures, without returning to the main menus. The big buttons with left/right arrows change the current page, 'I' shows the Information page, '=' the settings one, '?' takes you to this page and 'x' exits the program.
The main test pictures can be displayed by clicking the program icon or by pressing the '1' key, allowing a faster view of the: monitor sharpness, RGB purity, dark color visibility, synchronization, contrast and white level.
A transparent Information bar can be enabled / disabled in the Settings menu. It shows the name of the current test, the screen color (R G B values) under the cursor and the cursor position (X Y values) in pixels.
In order, you can see pictures with solid colors, pixel and line patterns, gradient colors and gamma tests. These are helping you to check the color purity, moiré interferences and to watch for lighter or darker areas, as well as for color uniformity. The vertical colored lines, 1 or 2 pixel width, on a black background, for LCD monitors with analog inputs, can help checking for a good horizontal synchronization / clock; only same width lines should be displayed. No interferences are present on good monitors, even on the old CRT ones. The color scales should be displayed, starting from Black (left side) to the brightest color (right side). If a color depth of 24 bit or more is set, no vertical edges should be seen. The gamma value indicates how well the brightness level of your monitor reflects the input signal. It could be estimated on the gamma pages, where a horizontal bar is most faded into the background. Be careful, on most LCD monitors (the video mode has to be equal to the native one) the gamma factor depends on brightness and is extremely sensitive with the viewing angle. For most monitors, the value will be around 2.2 during normal use (check online resources for more info and formulas here).
Next page is showing antialiased Arial fonts, of different sizes and colors, on colored backgrounds, square patterns and 16 levels gradient colors.
On page four are located pixel grid patterns, circles and tests for the dark / light values of the color intensity. If correct adjustments are set, all dark squares should be visible.
Page five contains tests for medium color values, line gradients, 256 level grids, and simple, 1px colored grids.
Finally, the sixth page brings White / Black test (solid colors) and five other pixel patterns. An ideal monitor does not flicker and does not show ghost shadows on these tests. The monitor response time / persistence can be checked with the animated B/W boxes, which are moving to the right side at 100, 200 and 400 pixels per second. Clear, sharp boxes indicate a good response time, and that the monitor is suitable for fast video applications. There are five more B/W/RGB/CMY bar tests, horizontally or vertically suites, for verifying the main colors purity at the current monitor settings. We have selected seven special photos, allowing to check the monitor adjustments you have made. You have to see the equilibrium of all the nuances and the color saturation, the gamma and the white temperature calibration. No dark or uniform areas, and neither blurred zones have to be seen. Thanks to 1Art.ro for this material and their designing advices; no one can copy, use or publish these photos without a prior permission from the author.
Several tests for touch and multi-touch screens are available here: single tap or five finger taps, pan, zoom, rotate and 'press and tap'; they can be simply performed on the colored area or on the flower photo from the middle of the screen. Windows 7 or newer is required for enabling these touch and gesture tests, as well as a laptop/tablet with this screen features.
Shareware
This program is a demo version. You can test it ten times; to continue using this utility after this period, you have to buy it. The program license allows you to use Monitor Expert on a single computer, for an unlimited period of time, with any upgrade available for free. For other license options please contact us via e-mail.