Micro Alert (Pro)
About this app
This application allows users to set a range of alerts in case of emergency (accidents, health problems, unknown locations). For example, if you shake your phone or if a certain area of its screen is touched, a 60-seconds timer is started and a specific beep is emitted every second. During this time interval, you may cancel the alert counter at any moment and the application will return to a stand-by state, waiting for another triggering event.
As the counter reached a full minute, the activated alerts are all starting; the alert sound and the flashlight may be cancelled by touching the Stop button. The phone call, if initiated, may be interrupted by using the usual button. If this application is active, your mobile device will stay awake and the alert sounds/lights will be continuously emitted.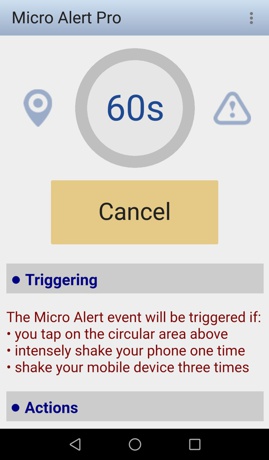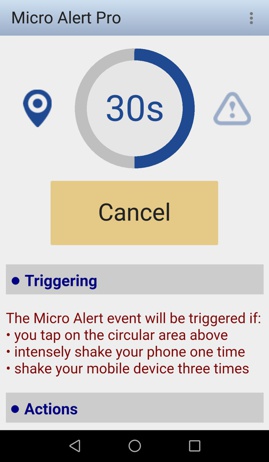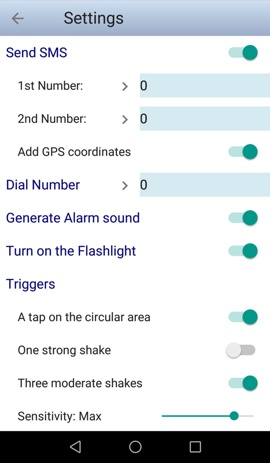 How it works
There are several actions that can be executed when the alert commences. First, a text message (SMS) can be sent to a pair of preset phone numbers. It may contain a hyperlink to the Google map location of sender; this feature works only in case your phone has an activated GPS sensor (and it correctly calculated the pair of longitude/latitude coordinates). Second, a certain phone number (for example, an emergency number) can be automatically dialed at that moment (leave '0' or empty for no call option). Third, a loud siren sound can be played continuously (until you cancel this alert or close the application) and the phone's flashlight can be activated as well.
All of these actions can be triggered by three distinct events: a tap in the circular area or on the counter (located in the program's main window, the upper side), a hard shake of the mobile device or three moderate shakes made within a time interval of 3 seconds. A 60-seconds timer is started immediately, allowing you to simply cancel the alert if it was not properly activated. The Sensitivity option can change the level of acceleration required to activate the alert when the phone is shaken (there are five intensity intervals: Min, Low, Medium, High, Max).
In order to use all these features, a series of permissions must be allowed when the application starts: Camera for the flashlight, Phone for the emergency call, SMS for the text messages, Your location for the actual coordinates and Contacts to easily look up the phone numbers.