Dialo
Call manager for your IP phone
Dialo is a call manager, allowing you to select and dial any phone number directly from your PC. It works with Cisco IP phones connected to your local network and it can send several commands such as dial, end, hold on each extension you select. Some of the most important features are:
- Auto copy the Windows Clipboard in the number field, so you can dial it with two mouse clicks;
- Four memory presets, M1 - M4, can store four Speed Dial numbers for easy access;
- Filter for international numbers, Stay on Top and Auto Run options;
- Dialing pad for easy mouse operation, ringer, headset, handset and speaker volume, Mute also;
- Up to eight extensions to use, simple and intuitive interface, low resources required.
- Compatible with Windows XP SP3, Vista and 7 OS versions.
It was tested mostly with the CISCO IP Phone SPA501G and SIP Callcentric phone services.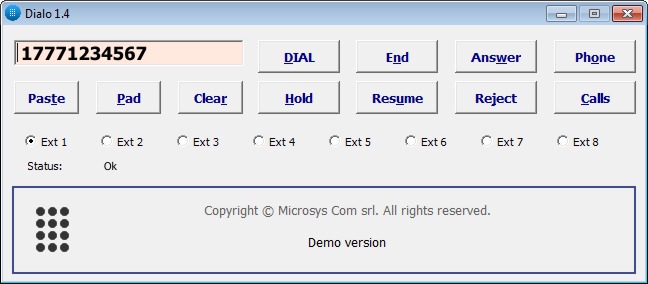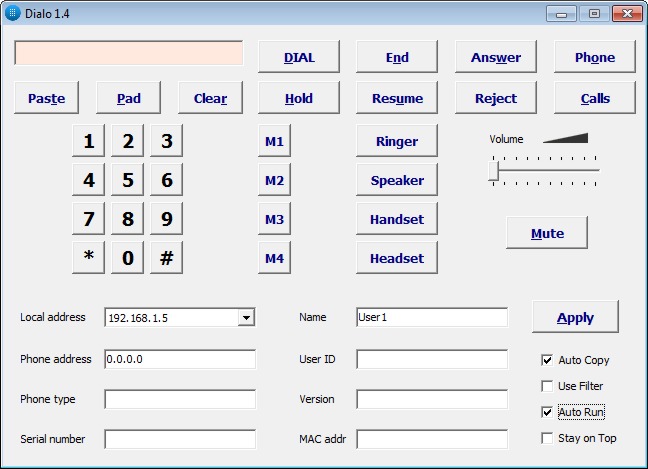 Download, install and test this demo version; if you like our software, you can purchase it. One license allows you to use one phone, based on its serial number, so make sure to send us the serial (s) (the string from 'Serial number' field, see the picture below) by email when making an order. Multiple licenses discount is available, check our buy page. Do not hesitate to contact us with any question you may have regarding Dialo.