Barometer
About this app
Here is a simple application that shows you the current value of the atmospheric pressure. This accurate measuring tool (portrait orientation, Android 6 or newer) works on the tablets, phones and smartphones that are connected to the Internet (even if they do not have a built-in pressure sensor). You can use the barometer to track the changes in local pressure (as they indicate the weather trend) and to see some other important meteorological parameters.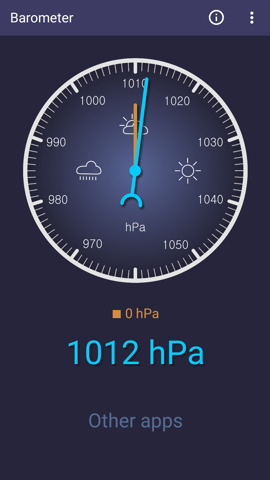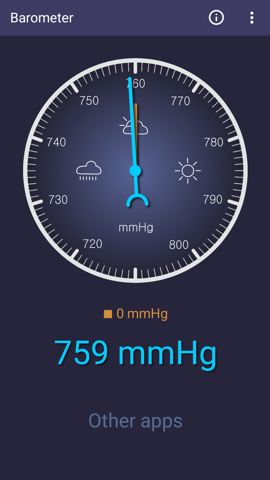 How it works
Once the application starts, the current pressure value is displayed within a few seconds in both analog and digital forms. The blue needle indicates the current value of pressure, while the orange one points to a previously stored value. The difference between those values and the trend are displayed just below the dial, but above the current pressure. To calibrate the barometer with the current pressure value, just tap on the orange label and then select Yes. To see more weather info, tap on the blue label. There are two more pages, About and Settings, which can be displayed by tapping on the menu from the upper-right side of the screen.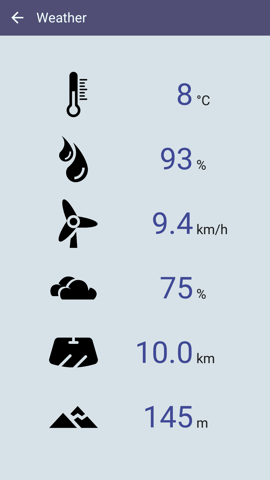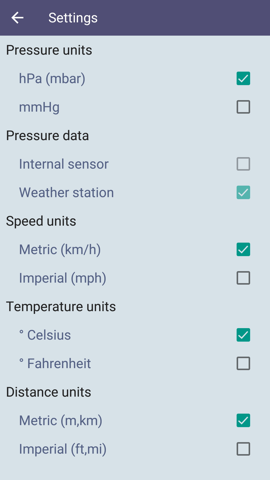 Global features
-- two of the most used units of measurement can be selected (hPa-mbar and mmHg)
-- free application - no ads, no limitations
-- only one permission is required (Location)
-- this app keeps the phone's screen ON
-- altitude information and location
-- additional weather info are available (temperature, cloudiness, visibility etc.)

Barometer Pro
The Pro version of our Barometer application contains two additional dials, one for temperature (Thermo) and one for humidity (Hygro). Naturally, the temperature setting (the unit of measure) is reflected on the dial (°C or °F). A tap on the displayed value, in any screen, shows all the other important meteorological parameters (on the Weather page). Moreover, the latest version features a new unit for pressure, inHg, and has the text to speech option for the main weather parameters.